Welcome to week 2 of LA FRONTERA.
Sunday 11/02
Went to Socorro and visited with Tanya Carbajal and family at her grandmother's farm. Tanya is the daughter of Orlando Carbajal, a farmer we met in Fort Hancock last week. Tanya is a student in journalism and new media at UTEP, and she is just as good in front of the camera as she is behind it. She gave me a good idea of what it was like growing up in Fort Hancock and her positions on border security and immigration justice.
I was invited to stay for an afternoon meal, but declined because I had an appointment later that day in Sierra Blanca with Bill and Lupe Dempsey. Bill and Lupe have a ranch near the border and they are quite concerned about border security. They promised to take me to the mysterious footbridge that spans the Rio Grande near their place.
On the way to the Dempseys', I got a call from the Right Reverend Jack Chappell, the inaugural Tex-Mex Compadre. He had been scouting a route to the river down Chispa Road, and got a flat on Mark's truck. Undaunted, we deployed my wife's roadside emergency unit that I just so happened to bring along.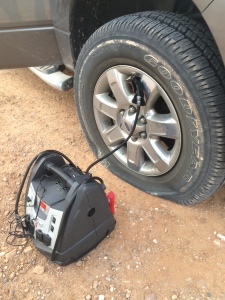 Unfortunately the tire was so damaged that air was leaking out almost as quickly as we were putting it in. Mark had a flat on the way to Texas, so this was actually his spare tire that was now flat. The original tire was in the back of the truck, still flat, so we put it in the van and took it to town.
Mark was quite nervous about leaving his truck overnight in such a remote area, but when we arrived the next morning to change the tire, everything was fine. We made a note not to travel on the back roads without a spare from now on. The chance of a flat is very high due to rocks, mesquite thorns, and who knows what else.
Monday 11/03 
Went to Red Rock Ranch with Darice McVay. The ranch is her family place and it's as pretty a place as I've ever seen. The sublime precambrian rock formations provided excellent aerial opportunities, so I deployed the copter often. It's always interesting to see what kind of selfie I get while initializing it.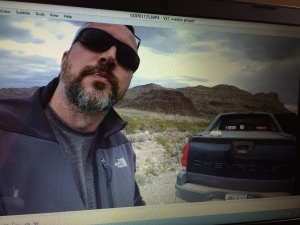 Got a great interview with Darice, a passionate conservationist, who talked about her efforts to preserve and protect the ranch while still being able to make an income from it. She has worked with the Texas Department of Wildlife to reintroduce bighorn sheep to the ranch. Last winter, when the temperature never got above 18 degrees for three days, two older radio-collared mountain lions died from exposure.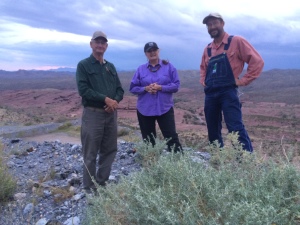 I was pleased to spot a juvenile horned toad scurrying along the path.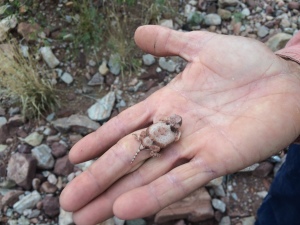 We also saw javelina, which are native animals and nothing like the feral swine we find in Mississippi.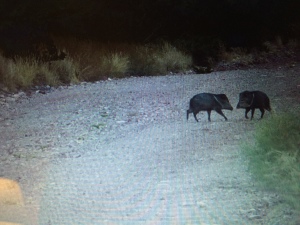 Here's a little cactus that a javelina tried to gnaw.
All in all, it was a great day that will be hard to beat.
Tuesday 11/04
Slow day due to constant drizzle. I wanted to see it rain in the desert, and I did. Unfortunately it was 40 degrees while doing so. Had some time to reflect on the production process and came to a few conclusions.
There is only so much one person can do on a project like this, so I find myself having to constantly prioritize and therefore make compromises. For instance, the only chance at interviewing a person might mean missing an opportunity to get scenics during the magic hour. Timing is so important and things don't always happen when I'd like for them to happen, so I have to just do what I can and move on.
I'm always shooting B-roll but I never feel like I have enough. It's challenging to give a sense of place from a variety of perspectives. Remember how you went on vacation as a kid and took a bunch of pictures of the Grand Canyon or something, and when you got back and saw them they didn't look nearly as great as the real thing? That's what I try to overcome every day. It's difficult to capture the grandeur of such vast landscapes, so one thing I do is try to focus on the details. I try to notice the little things, like a shard of a broken telephone insulator by the railroad tracks, or the path a turtle left as it dragged itself across the mud. There's only so much that the eye or camera can capture on such large scales, so I like to sprinkle these detail shots around like magic pixie dust to add interest and really give a sense of place.
A formally lit interview is not always possible, nor is it always appropriate. Sometimes all you can or want to do is put somebody in a big room, turn on all the lights, set a custom white balance on a white card, and get it done.
Battery life is a constant concern. As a mobile production unit, I have a charging station going at all times with spare batteries for the copter and the GoPro. Camera battery life isn't as worrisome, but aerials require a constant rotation of fresh batteries.
Happily, card capacity is really no longer a concern. I never thought I'd say that, but thank goodness for Moore's Law.
Wednesday 11/05
Interviewed Wayne Edgin, the Hudspeth County EMS President, at the courthouse in Sierra Blanca. He has a really unique perspective on life in this region given his EMS responsibilities and prior experience in law enforcement.
Went to Orlando Carbajal's farm to get some coverage to play over his daughter Tanya's interview.
Finally got up with Bill Dempsey. Unfortunately it was drizzling and almost dark, but he was gracious enough to take me out anyway. Bill is one of Sheriff Arvin West's deputies, so we loaded up into his Deputy Sheriff's vehicle and went out to the footbridge. It's a very strange scene down there. The river has been channelized in this area, so there's a good levee road which is clear for about a hundred yards from the river on the US side. On the Mexican side, it's all overgrown, but there is a poorly maintained trail along that side of the river. The footbridge itself is a narrow steel structure that's presumably used for maintenance purposes, but it's completely unsecured. I walked to almost the center, trying to make sure I remained in US territory. There are no gates on it or anything to prevent people from just walking the 10 yards across from one country to another. There was also no CBP presence down there. It was dark and raining harder by the time we got there, so unfortunately my footage was less than ideal, but I did what I could and got Bill to give his thoughts on the arrangement.
It was almost completely dark when we left. On the way out, I looked 40 yards across the river and saw a pickup truck pulling a trailer behind it with 8-foot wooden sides. They were blacked out and could obviously see us. We waited to see what they would do, and when they crept on past the footbridge, we went on our way. The people on the other side could have been completely innocent in their presence there, but Bill felt like the trailer was full of either people or drugs.
This experience was the first of the trip to make me uncomfortable. The border is wide open down here.
Thursday 11/06
More rain and wind and no meetings lined up so not a lot to do. Did get some really cool footage of a giant flock of blackbirds bugging around cows, and when they flushed, a hawk dove down and nabbed one. Animal behavior, baby. Phil, one of my mentors from film school, would be proud.
Friday 11/07
Spent a great morning with Chuy Calderon, the mayor of Valentine and a science teacher with the Valentine ISD. Valentine is a community of about 125 people, and there are 39 students in grades pre-K through 12. Texas law prevents the closure of a school that's more than thirty miles from the nearest school, so Valentine ISD perseveres. Its students are outstanding scholars and go on to successful academic careers at a variety of colleges and universities. Chuy is a steadfast civic leader, having been born and lived in Valentine for his entire life. He works tirelessly for the town in the hopes of generating some sort of economic development that will also maintain the high quality of life they have all come to know. Chuy is also a big fan of the CBP, and attributes much of  the relative safety in Valentine to them.
The CBP maintains a very visible presence along this stretch of US 90. Mark was questioned three times in the span of two hours by three different agents, which tells you something about their communication. I have not been bothered in this area, although an agent did check me out in Valentine while I was doing some aerials over the cemetery. He moved on past, so luckily I didn't have to try to talk to him and pilot the copter simultaneously.
One very surreal thing you see on the horizon as you head towards Marfa is a giant blimp. The opportunity to fly our drone over theirs was almost too much to resist, but I decided that probably wouldn't be prudent.
The landscape from Valentine to Marfa changes pretty dramatically as you get into the Marfa grasslands. You see less cacti and shrubs and more grass, so cattle grazing is more prevalent in this area. If you read my last blog, you know that I had to dodge a couch on I-10 in Dallas. Here's a typical traffic obstruction east of Valentine.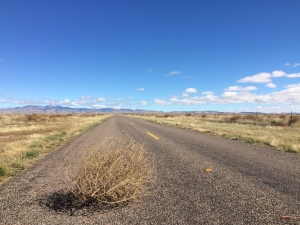 Interesting factoid: tumbleweeds, the iconic plant of the American West, are an invasive species from Russia.
Saturday 11/08
If you ever find yourself on the 74-mile stretch between Van Horn and Marfa without any designer purses or shoes, you can always stop here.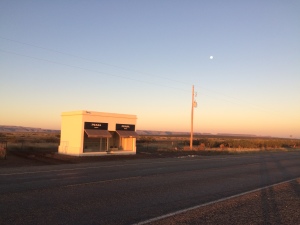 Since Marfa is a big art community,this is an art installation. As you would expect, people vandalize it all the time, so none of the purses have bottoms in them and all the shoes are right-foot only.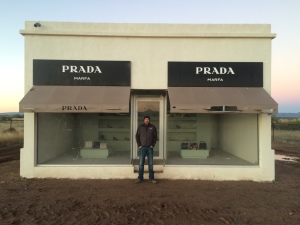 We staged Mark walking past it at dawn to great effect.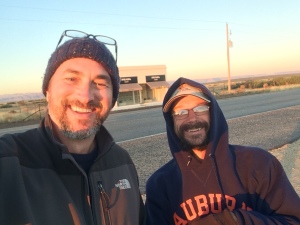 It was an extremely windy day, so we also staged some tumbleweeds crossing Mark's path. Thankfully I had an able production assistant to act as Tumbleweed Wrangler.
I hope you've enjoyed this second dispatch from LA FRONTERA. I will update again after we get down through the Big Bend area.