Welcome to the chronicle of week 1 of LA FRONTERA. My plan to publish daily dispatches proved to be much too ambitious, so instead I shall be issuing weekly digests of our adventure.
Saturday 10/25
Made it to Abilene in about 11 hours. Dodged a couch in the middle of six lanes of traffic on I-10; called 911 to report it and felt like a good citizen. Incurred some minor vehicle damage due to the wind, but it was nothing a little gaff tape couldn't fix.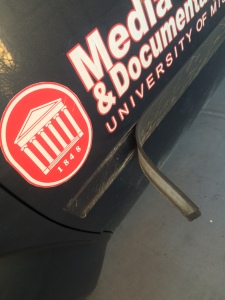 Sunday 10/26 
Got into El Paso after about 7 hours. It's a long way across Texas. Located International Boundary Marker 1, which also marks the commencement point of our journey. Here's Mark Hainds, Jack Chappell (one of Mark's Tex-Mex compadres, a group of friends providing logistical support), and me at the marker.
This area was quite surreal. It's very difficult to find due to a lack of signage, and it's basically in the middle of a big cement quarry. The Rio Grande trickles by just a few yards away and is holding a moderate population of waterfowl at this time. When we first arrived at the marker on Sunday evening, a Border Patrol agent drove up and inquired as to our business there. After about thirty seconds of explaining, two more vehicles came from nowhere in a cloud of dust. I am pleased to report that they were all quite courteous in the comportment of their duties. This area is heavily patrolled because there is no fence or wall or anything else to keep anyone from stepping across the invisible line that separates the United States and Mexico. Agents are out here constantly, and at night they have a series of floodlight banks that they turn on to light the area and more easily spot illegal activity. In addition to those countermeasures, they also employ thermal and motion sensors and cameras. All in all, it was a very interesting location to begin the adventure.
Monday  10/27
Began at dawn and ended up in Socorro for a late lunch.
My impression of El Paso is that it is a very clean and safe city, which puts it in stark contrast to Ciudad Juarez just across the river. We stayed right off the UTEP campus and I felt very comfortable in my surroundings. El Paso is a very pedestrian-friendly city with an extensive public-transportation system, and it's easy to get around regardless of your method of conveyance.
Tuesday 10/28
The land gradually depopulates on the way from Socorro to Tornillo. Apartment buildings and parking lots yield to cotton fields and pecan orchards.
Went up to the Scenic Overlook that evening to get some epic time-lapses of the El Paso / Ciudad Juarez international metropolitan area. I decided this was a great opportunity for a three-camera shoot. It was so scenic that I went back the next morning before dawn and got some more good stuff.
That's the GH4 on the left and the AF100 on the right. If you look closely, you can see our new GoPro Hero 4 on the ledge. It has a really neat feature called "night lapse" that incrementally adjusts the exposure in such a way that lets you get a nice smooth daylight to sunset to evening transition. I got some especially cool stuff as day turned to night with all the auto traffic along I-10 and the air traffic at the airport and Fort Bliss.
Wednesday 10/29
The stretch to Fort Hancock is mainly agricultural. There are huge pecan orchards, but the trees themselves aren't nearly as big as the ones we see in Mississippi. There is also a lot of cotton, which doesn't look nearly as pretty as what we see in the Delta, but it looks pretty good to basically be growing in the Chihuahua Desert.
The fence/wall runs through most of El Paso, ends somewhere east of there, and is somewhat intermittent until a few miles west of Fort Hancock. There are varying opinions on why these gaps in the fence/wall exist.
Fort Hancock is a remote outpost in Hudspeth County. You may have heard of that county from this movie. It is a giant county that can take an hour and a half just to get across. It is also desperately poor, and fifty dollars gets you this accommodation.
I decided not to post the photo of the bathroom in case anyone is eating while reading.
Thursday 10/30
On the way to Esperanza via FM 192. There are still row crops in this area, but the further east you go, the more open range you see. There has been a drought here for the past three years that has caused farmers like Orlando Carbajal to shift from vegetables to goats. His daughter, Tanya, writes for the Hudspeth County newspaper.
The Border Patrol has a huge presence here, as this is a hot zone for illegal crossings. We were questioned daily as to our business. We have seen agents in active pursuit via SUV, horseback, and foot. I made contact with the Joint Operations force that coordinates activities between the different law-enforcement entities and try to keep them apprised of our itinerary. Saw our first UAV (Unmanned Aerial Vehicle / drone / eye in the sky). It was a small fixed-wing aircraft. We were not flying our drone at the time, and I always try to inform CBP (Customs and Border Protection) Air Ops of our flight plans beforehand, just for deconfliction purposes (their term, not mine).
It's very strange to feel as though you're being watched all the time.
Friday 10/31
Went into El Paso and had a great interview with Josiah Heyman, Director of the UTEP Center for Interamerican and B0rder Studies.
Headed back east where the fence/wall turns into barbed wire. This is a hot zone for illegal crossings, for obvious reasons. It is also heavily monitored. On the night before we visited,three persons crossed illegally here and agents tracked them on foot and in the dark fifteen miles north before they caught them at dawn. Bill and Lupe Dempsey have a ranch on land in this area, and they are always finding people illegally crossing their land in various states of progress and health. The Dempseys and Arvin West, the sheriff of Hudspeth County, are concerned that this area is so insecure.
Met Rusty Fleming, a local filmmaker who has embedded with all the major drug cartel gangs. He has incredible footage of some of the horrific violence that takes place (mostly) across the border. Rusty, unfortunately I cannot find the card upon which I wrote your number. If you're reading this, call or email, please.
Got some worried texts from the folks at work saying somebody from CBP had called to see if they knew anything about me. That was intriguing.
We turned north on Quitman Pass Road on the way to Sierra Blanca.
We deviated from the river route because there is no established trail for much of the way between there and Candelaria. The Quitman Pass road is some of the most beautifully rugged country around. Lots of interesting cacti and some flowers blooming. There is basically nothing else on it besides a few surprisingly healthy-looking cows for the twenty miles to SB. Flew the copter along here, which was a real challenge. It's not easy to jog along in cowboy boots at 4000 feet while trying to pilot a helicopter in a 7-10 mph wind.
Here's the last car that tried to make it across the pass.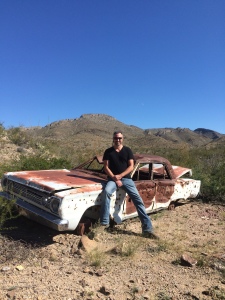 Here are Jack and Mark at some petroglyphs just off the road.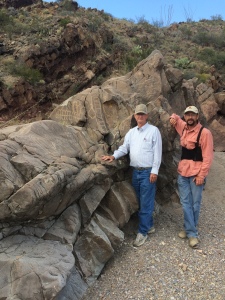 Here's a Texas pothole.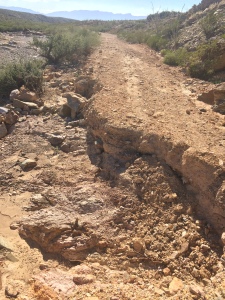 Undaunted, we made it to our campsite at a stock-watering tank. After huddling around the campfire for a bit, we turned in and fell asleep to the sounds of the wind and coyotes howling. We didn't see anybody or hear anything the rest of the night.
Saturday 11/01
Broke camp at dawn and headed into Sierra Blanca. Met Wayne Edgin, the Hudspeth County EMS Coordinator and part-time private investigator. He is an Alabama native, so I enjoyed getting my SEC football bullshooting fix with him. He has a unique perspective of the culture here given his professions.
Spent the night in Van Horn and watched an exciting night of SEC football. Made plans for the next few days of visits with some of the great people we've met along the way.
I hope you've enjoyed this first missive from LA FRONTERA. I will update again in about a week or the next time I have wi-fi. Hasta luego!