Welcome to week 3 of LA FRONTERA, coming to you after four hours of cleanup and refresh after a nasty PC infection. I really miss my Mac. PC people, if you move to Mac then you won't have any more trouble with any of this virus and bloatware nonsense.
Sunday 11/09
Sadness ensued as Hizzoner Jack Chappell rolled off the expedition. Jack was a huge help to both Mark and me and a pleasure to have along.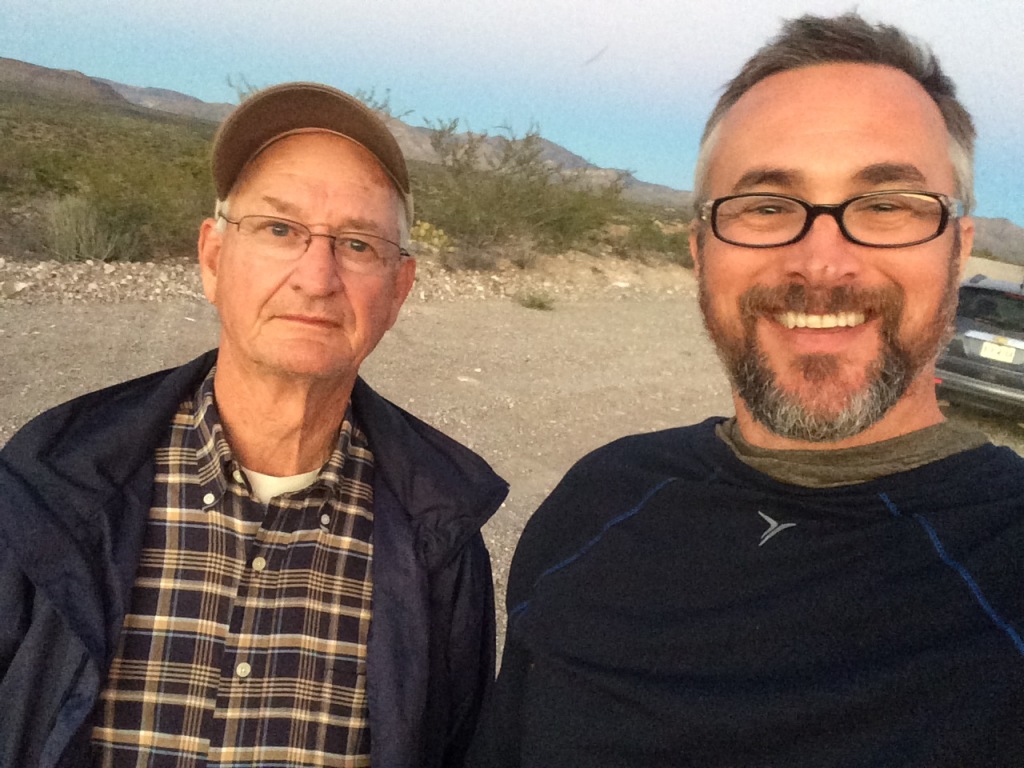 His big shoes will be ably filled by the dynamic duo of Ronnie Vehorn and Simons Hane. We've heard they're good cooks, so we're looking forward to some delicious craft services on this leg of the trip.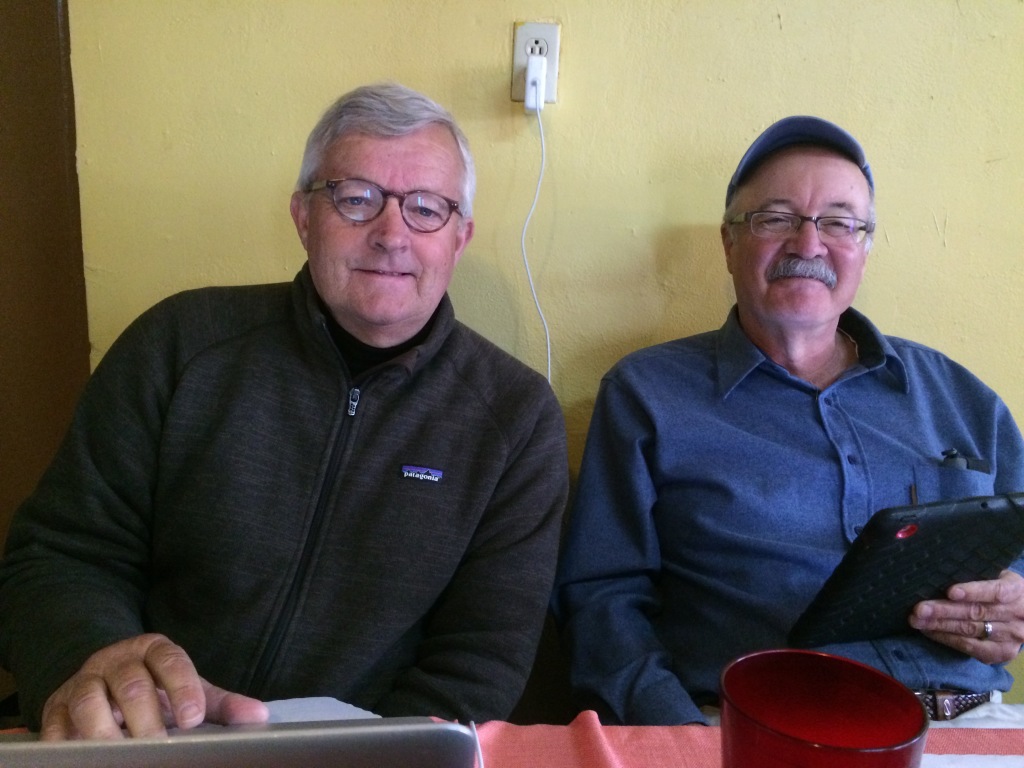 Monday 11/10
Relocated our base of operations from Marfa to Chinati Hot Springs in order to meet Mark in Candelaria at the end of Chispa Road.
US 67 to Presidio is a nice drive, with lots of big rolling hills, windmills, and pretty grass. There are several historic ranches along this road.
Just north of Presidio, you take FM-170 west to Chinati and then Candelaria. Saw my first live tarantula. It was so big that I could see it in the road as I approached it at fifty mph. In my haste to record it I forgot to put down anything for scale, but this one was almost as big as my hand.
CBP grooms the roadside along FM-170 by pulling section harrows behind their SUVs, presumably to aid in tracking efforts. They weigh them down with big skidder tires and leave all this stuff lying along the right of way. I was puzzled as to their purpose until I saw a guy pulling one. Too bad I didn't have the GoPro mounted to the van.
I have learned to be proactive with CBP, so I always stop and introduce myself when I see a unit, just to let them know what we're doing. On this occasion, the guy informed me that he'd already heard about us because they'd been tracking "a single" down Chispa. That would have been Mark.
Pulled into Chinati Hot Springs and this was the first thing I saw.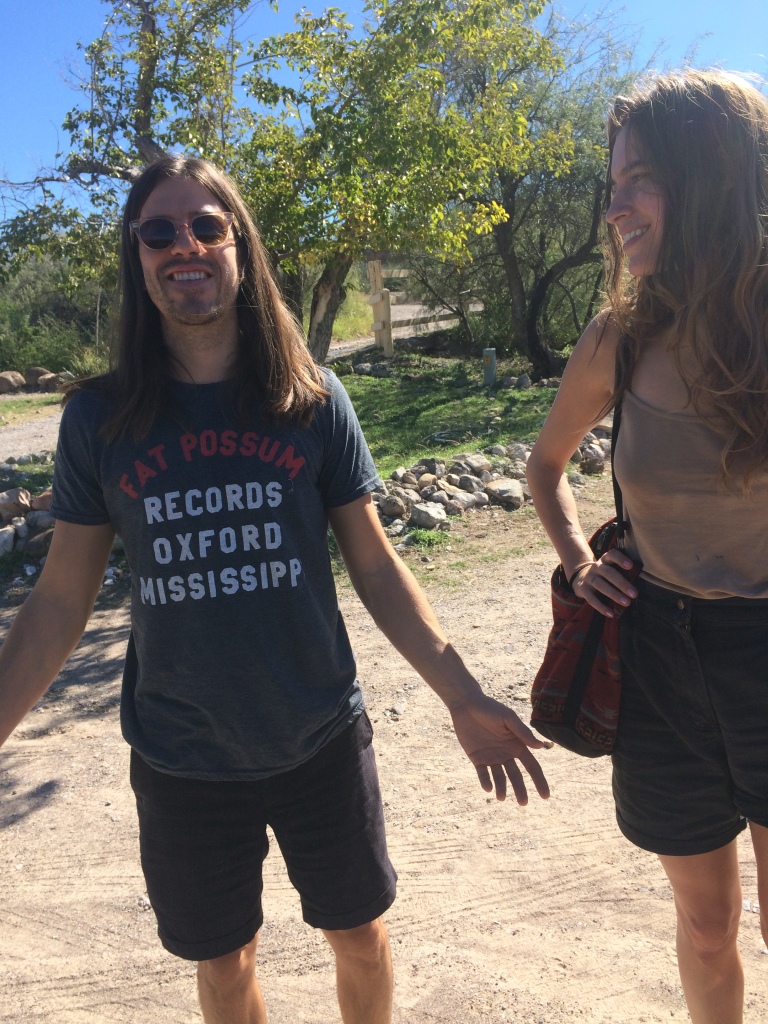 That's Nate from Pure X (and his friend Amy) reppin' Oxford.
Diana, the manager of Chinati, was a first-class hostess and a big help to us in maintaining communications, navigating routes, meeting people, and all the other things we depend upon with respect to the kindness of strangers. She also had us a great little place to stay. Diana, you are like totally awesome!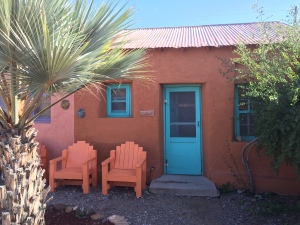 Got some scenics and aerials, took in a stellar sunset, had a soak, and called it a day.
Tuesday 11/11
Got up and out before light to get positioned for some scenics and aerials at dawn. Sunset used to be my favorite time of day, but I think I'm coming around to sunrise. The light is just magnificent at either time but there's something about the dawning of a new day that is really inspiring. Here are a couple of pictures of what I've always called a Christmas cactus. They're everywhere in the Chihuahua desert.
Drove out Chispa Road from Candelaria and came across Capote Creek, which was still running a bit due to all the rain we had up north last week. Got some really neat shots of a thistle seed meandering around in the current. Even deployed the GoPro and made good use of its underwater housing.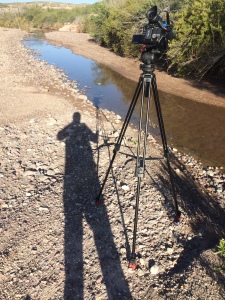 These are the tracks of feral swine. We saw lots of their sign.
While shooting here, I was approached by two CBP units: one was an SUV and one was a quad, and each had two agents aboard. They were quite nice, even more so than most, and we talked at length about the area. One guy was from Study Butte, so he liked my cap I got on another adventure out here years ago. I told them I was going to Godzilla Hill, and they volunteered to lead me out there just to make sure I could make it. They also told me that their nomenclature for that area was BFR. I wonder what that stands for?
We talked for a while at the top of the hill, and about five minutes after they left, I heard a thumping noise in the distance. Standing in a pass with thirty-foot sides, I could not see anything due to my very limited view. The noise grew progressively louder until a CBP copter appeared over the cliff and passed less than a hundred feet over me. I guess they just happened to be in the area.
I wanted to get our hiker scaling Godzilla Hill, so I set up and waited on Mark. And waited. And waited. I grossly miscalculated his arrival time, so I had plenty of time to take a few snaps of the vegetation in that area.
Simons and Ronnie arrived in Mark's 4WD pickup, so we descended Godzilla Hill, rounded the corner, and came upon this mudhole.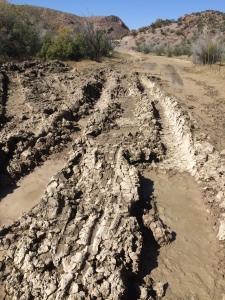 So I set up and waited some more, where Ronnie caught me in repose. Rocks and dirt clods can actually be fairly comfortable.
By now Mark was about three hours late, and I was beginning to worry because this thirty-mile stretch along the river is some of the wildest and most remote in all of Texas. I hiked up the trail about a mile, where I could see another half mile or so, and didn't see him. I went back to discuss it with Simons and Ronnie, and just as we agreed that we would summon CBP in another fifteen minutes, Mark appeared.
Mark had only walked about fifteen miles on this particular day, so I pulled a total directorial diva move and told him we had to have him scale Godzilla Hill while the light was good. Trooper that he is, Mark made it up without stopping. This was such a dramatic scene. I only wish I could have gotten some epic aerials, but it was just too windy through this little canyon.
Got back to Chinati and had a soak and a beverage, gorged on leftover tamales, and turned in early.
Wednesday 11/12
Took Mark out to BFR at dawn to resume his trek. On the way up Chispa, two coyotes ran ahead of us in the middle of the road for about a half mile. I was amazed at how bold these were; at home, you will only catch a fleeting glimpse of one. While we were following them, one stopped twice to urinate in the road. I got the camera out and was able to grab a decent handheld shot of the one taking its third leak. If you've never seen coyote urine splashed on a rock, you're in for a real treat.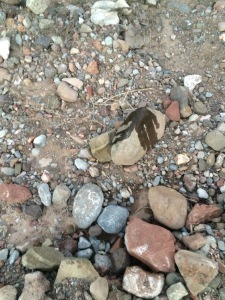 One thing that struck me on this particular morning is how quiet it was. Wherever you are, you can usually hear a truck, airplane, gunshot, or some other aural indicator of civilization. Out here, there was absolutely nothing but wind and birdsong. The soundscape really is as sublime as the landscape. Got some absolutely epic aerials with the undulating terrain and sunrise over the mountains. Here we are about to get going at dawn.
I hope you've enjoyed this third dispatch from LA FRONTERA. I will update again after we get down through the Big Bend area.