Welcome to week 5 of LA FRONTERA. This blog will not be as detailed as my previous ones since I've fallen behind on my journal, but I'll hit the high spots.
Had a nice Thanksgiving dinner with Mark and Bob at an unnamed hotel in Marathon (so unnamed because there were no comps).
The road from Marathon to Sanderson went through some of the bleakest country you'll ever see, but it was surprisingly rich in wildlife. We saw plentiful deer, antelope, javelina, and even three elk! Apparently elk were hunted out of Texas fifty or sixty years ago, but the game ranches began re-introducing them back in the nineties. As you would expect, some escaped, and there are now about fifteen hundred free-range elk in Texas. We were super fortunate to see them, but these sure won't live long if they don't get any more skittish than they currently are.
Stayed at the Budget Inn in Sanderson and enjoyed the hospitality of our gracious host and manager, Dalipseth. He and his mother served us afternoon tea and delicious home-cooked Indian food for two straight days! Dalip and mother, you two are fantastic!  We shall return!
Made it into Langtry and stayed with the Billings family. Mark met Adrian by chance in Presidio, and he graciously invited us to stay at their place and visit with his father (Warren), uncle (Aaron), and grandfather (Pete). The Billings clan grew up on the river and had a completely exciting experience exploring, hunting, and fishing all along the Rio Grande. Sat down with Pete and got some neat remembrances of their outings. All this came about due to a chance meeting with Adrian. Thanks, Adrian!
After that I went out to the river and got some incredible scenics from Pump Canyon (so named because that's where they filled up the steam locomotives).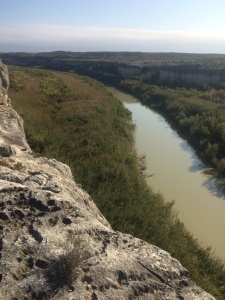 I also hiked down to the river with our latest compadres, Jimmy and Sierra. The Rio Grande here is about the size of the Chunky River.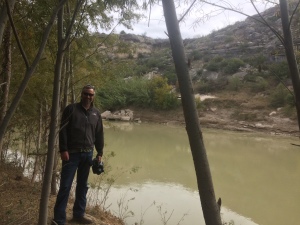 Met Phil Berg, a motorcyclist whose dog Umma rides behind him in a rumble seat as he pulls a popup camper down the road. Got a neat interview with him. Here's a terrible picture.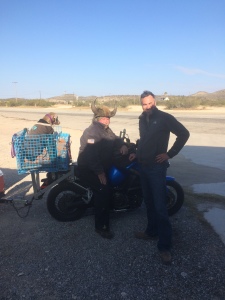 Met Jack Skiles, a Renaissance man from Langtry, who is an author, archaeologist, educator, rancher, and conservationist. Got a great interview with him on the bluff overlooking the canyon he owns, which is full of sites where ancient peoples once lived. Ran out of light so went back the next day and hiked down into the canyon to see some of the sites. This was an amazing experience. I made sure I took the time to sit in their ancient rock shelters and contemplate what they would have been thinking about as they created their rock art. It was quite meditative and very thought provoking to be right there where people lived, loved, hoped, dreamed, and died so many thousands of years ago.
After that great morning I had a delicous home-cooked lunch with Jack and his wife, Wilmuth. They are great people who really love Langtry, and I really enjoyed getting to know them.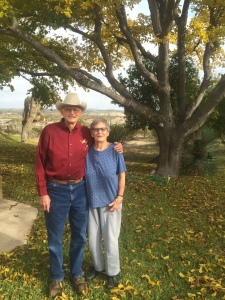 I'm taking the weekend off for a little R&R. My friend Darren is coming down from Austin to see me. The last time we were in this neck of the woods, almost ten years ago, we looked like this.
He looks like a J. Crew model and I look like I just got through cutting the grass. I'll post a current photo in the next blog and we'll see if anything has changed.
I hope you've enjoyed this brief fifth dispatch from LA FRONTERA. I will update again as we head down past Laredo.