Welcome to week 4 of LA FRONTERA, coming to you from beautiful Alpine, Texas.
Mark took a week off to go back home for a previous commitment, so I used this time to loop back with some people. But first I had a great weekend with my wonderful wife, Cara. Here's a gratuitous vacation photo for your enjoyment. That's only a thousand-year-old pictograph on Darice McVay's ranch in Van Horn, Texas.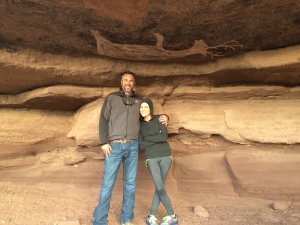 Wednesday 11/19
Darice introduced me to Ray Fitzgerald, who is eighty-three years old and a sure-enough cowboy. He's also the retired chief of the Border Patrol station in Van Horn and a cowboy poet.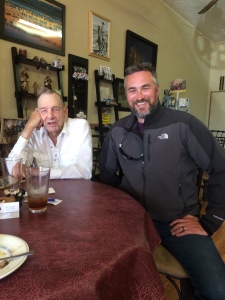 Ray gave a great perspective on how things have changed along la frontera since he retired from CBP. He also talked all about his cowboying experience, and even recited one of his poems for me.
I wanted to get Ray riding his horse, but Drifter wasn't in the corral. We scanned the area and finally saw him close to a mile out across the mesquite plain. Ray blew his car horn to try to call him in, but the horse didn't respond. I felt very strongly that we had to get Ray on horseback to play over his interview, so I volunteered to go out and try to bring the horse in. Ray gave me a hackamore and I set out. I grew up on a farm around cattle, but I have little equestrian experience, so as I walked I just tried to call the horse like I would the cows long ago. It didn't work. Drifter just stood and stared at me, but he didn't seem nervous, so I just eased up to him and slipped the hackamore over his head as easy as pie. After that, all I had to do was lead him in, and he followed me with no problems. Ray saddled him up and rode him around a few minutes for me so I could get some good coverage.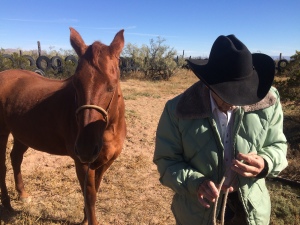 It really doesn't get much more cowboy than Ray. Thanks, Darice!
On the way from Van Horn to Marfa, I saw my first antelope of the trip. They took notice but weren't spooked at all when I stopped the van and got out to grab a few shots.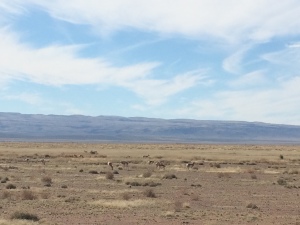 Headed down to Presidio and out to the Big Bend State Park office at Fort Leaton. Filled out some paperwork and chatted at length with David and Tony, who were a big help as far as orientation and introductions. Thanks, guys!
Thursday 11/20
Met with Terry Bishop out at La Junta Heritage Center and had a great interview. La junta is Spanish for "the junction", which in this case refers to the confluence of the rivers Conchos and Bravo (Grande to us in the US). The Bravo is really just a ditch at this point until it becomes a river with the help of the Conchos. One of the projects Terry is undertaking at La Junta is wetlands restoration, so he had a lot of great things to say about water and the environment on the border.
Here's your feels for the day, courtesy of Terry's eighteen-year-old border collie stricken with cancer, heart disease, and hip dysplasia. (The video is oriented properly when it plays).
The other dog is actually a wolf that artist A. Kelly Pruitt adopted when he found it abandoned as a pup. Terry and Kelly were best friends, so when Kelly passed, the care of his animals turned over to Terry.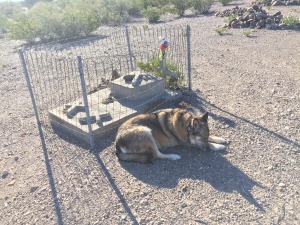 Had lunch and went to a service station to get a tire looked at that had a persistent leak. The guy took it off, found a leak, and then showed me how the wires from the steel belt were sticking out all around the perimeter. Time for a new set of tires. None that fit were available in Presidio, so I had to spend the afternoon in Alpine procuring a new pair of rear tires for the van. I have been very fortunate not to have any flats on this trip. Mark has had three. Most often it's not a rock, but a mesquite thorn puncturing the sidewall.
Friday 11/21
Went up to the overlook at Presidio and got a pretty sunrise.
Met Ruben Hernandez, the original vaquero who was with Big Bend Ranch before it became a state park. He doesn't speak much English and I don't speak much Spanish, but we were thankfully able to enlist the services of a gracious translator. Ruben gave a fantastic interview. When he got emotional talking about nights on the open range, I think I got a little smoke in my eyes.
Did a bunch of aerials that afternoon because the wind was supposed to start gusting over the next couple of days.
Set up camp at Arenosa Campground next to the river and welcomed Mark back to the expedition.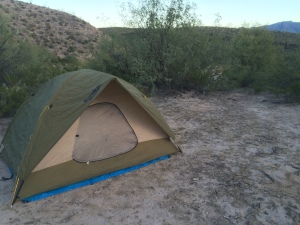 Here was the view out the back window of our tents. We slept well to the sound of the river.
Saturday 11/22
The paperwork to shoot in BBSP hadn't come through, so I just shot Mark on FM-170 outside the park boundary. There's some great scenery around Redford / Polvo that isn't actually a part of the park.
At the end of the day, set up camp at Grassy Banks and went into Lajitas to try to meet some people at the store. Debbie Garrison arrived shortly thereafter and was an incredible hostess, providing us with lodging, introductions, information, and lots of good old-fashioned hospitality. We were overjoyed to run pull up our tent stakes and move into our rooms at Lajitas Golf Resort. Thank you, Debbie and Stan!
Sunday 11/23
Roamed around Lajitas shooting some various things. We were on our way into town when our new Tex-Mex compadre, Bob Larrimore, spotted something just across the river.
That tiny square-looking thing is the rear of a Mexican Army vehicle. Right behind it is a Humvee with a 50-caliber machine gun on it. We watched them for a while but they didn't seem especially concerned about our observation.
Tim, Debbie's husband, is the manager of the RV park at Lajitas, and he fixed us up with a great campsite there. After setting up camp, we all went to the 14th tee box to enjoy the sunset. Believe it or not, I was actually working while they socialized, even though some of the photographic evidence suggests otherwise.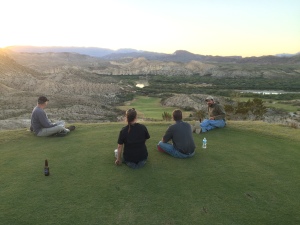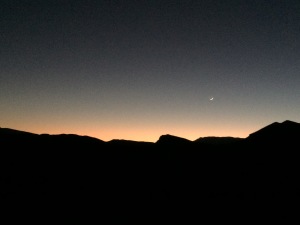 Monday 11/24
Went out on the course with Randy Small, course manager, at dawn. He gave me a lot of great stuff about how to make a beautiful golf course in the desert, and I was impressed with their environmentally friendly approach. Flew the copter off the 14th tee box to amazing effect.
That afternoon, Debbie the Goat Girl did a super job spinning the funny story of the four-legged beer-drinking Mayor of Lajitas. Mounted the GoPro to the golf cart and got some outrageous stuff of Debbie riding the goats around. That was fun!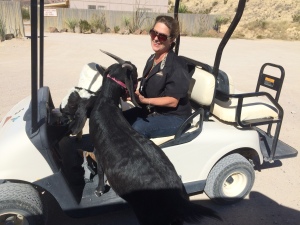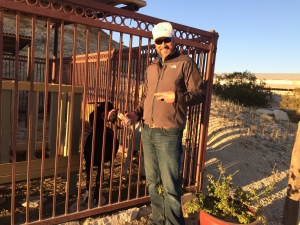 Left Lajitas somewhat regretfully, but happy with the content we got there, and relocated our base of operations to Alpine.
Tuesday 11/25
Caught up on my backups and blogging. I think Mark has some people lined up for me to meet tomorrow, so maybe you'll hear about them in next week's update.
A final thought: most documentary films would be virtually impossible to produce without the kindness of strangers who become our friends. I've known that for a long time, but am reminded of it over and over on this trip. Debbie, Tim, David, Tony, Terry, Brad, Darice, and so many others have helped us so much, and we are so grateful to you all for making this experience so memorable.
I hope you've enjoyed this fourth dispatch from LA FRONTERA. I will update again as we head down the Lower Rio Grande Valley.