A collection of annual Halloween short films produced by Matthew Graves at the Southern Documentary Project.
'Til Death - 2015
On the dark and stormy night of his fiancée's funeral, a grieving man, so overwhelmed at the thought of never seeing the love of his life again, decides to bring her home.
Starring Michael J. Ewing and Jennifer Pierce Mathus.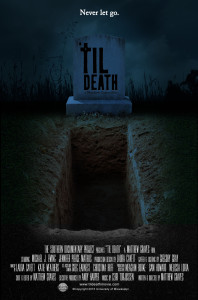 Barry - 2014
Deep beneath a cold, dark forest lies Barry. His world is a dusty coffin and a cherished locket from his dear wife, Mary. He has come to terms with his present situation but strange new noises are coming from outside his solitary home.
Starring Greg Earnest, Meaghin Burke, and Johnny McPhail.
The Embalming - 2013
On a dark and stormy night, a disgruntled funeral home director is visited by an odd group with a simple request.
Starring Johnny McPhail, Rhes Low, Lester Ferrell, Micah Ginn, Daniel Morrow, Chris Williams, Frank Tuttle, Maddie Cavett and Ben Harper.
Written by Frank Tuttle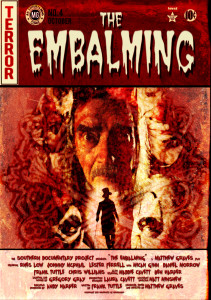 Trick or Treat - 2012
On their way to a Halloween party, Todd and Margo meet an unexpected stranger.
Starring Greg Earnest, Meaghin Burke, Maddie Cavett, and Micah Ginn.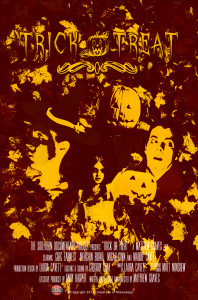 Ole Miss Monsters - 2011
On a dark and stormy night on the Ole Miss campus, Rebel Basketball fever is spreading.
A short film produced for the 2011-2012 Ole Miss Men's Basketball team by Media and Documentary Projects in association with Ole Miss Sports Productions featuring players Reginald Buckner, Demarco Cox, Terrance Henry, Dundrecous Nelson, and Nick Williams with additional cast and crew from students, faculty, and staff at the University of Mississippi.
Oh, Christmas Triage - 2010
A short Christmas comedy that answers the age old question of how Santa Claus decorates his trees.
Starring Micah Ginn, Melissa Graves, Matt Minshew, Chris Williams, Ben Harper, and Jim Payne
Footsteps - 2009
An editor working late on Halloween will need more than energy drinks to stay awake tonight.
Starring Chris Williams and Sarah Miller.
Tricks and Treats - 2008
A young woman, home alone on Halloween, is terrorized by a mysterious stranger.
Starring Melissa Graves, Chris Williams, and Micah Ginn